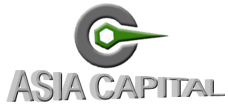 OVERVIEW
Asia Capital Limited was incorporated in the year 1983. The Company is a Non-Banking Finance Company "NBFC" registered with the Reserve Bank of India as a non-systemically important non-deposit taking company. We are listed on BSE Limited since November 27, 2014.
We are a professionally managed and institutionally owned organization which is primarily engaged in providing structured term financing solutions to corporates and loans to small and medium enterprise "SME" borrowers in India.
With effect from January 01, 2019 the management and control of our Company got changed. M/s SKC Investment Advisors Private Limited is the holding company and promoter of Asia Capital Limited with a shareholding of 75% of equity shares of the Company.
The objective of our Company is to redefine the experience of borrowing by SMEs in India. Our Company is targeting to create healthy lending marketplace fully dedicated to SMEs. Our Company shall focus on SME Segment financing by smoothen the loan process for small businesses. The loan will be granted to small business against securities and assets to meet their short term as well as long term financial requirements.
Our Philosophy
Mission

To excel in meeting our customers expectations by providing transparent and compliant financial services.
Vision

To be a customer centric global financial company in providing world class solutions.